One of the fastest and easiest ways to gain a following to your website or social media is through your "look." You've seen it before, that cool Instagrammer who's photos always look artsy and in the same color scheme. How do they do that? Well it's easier than it looks and we are going to show you how! Here is our perfect recipe!
Chose a Layout
Using SquareSpace or Wordpress for websites is a great option for those of you just starting out and do not have the time or money to build your own site (trust me, it could cost you thousands to make and thousands to maintain). When using these sites, there are a ton of different options. Depending on what kind of site you are trying to run, there are better layouts.
Blogs do really well with simple layouts where you can search for topics and browse a blog library. Selling sites work best with space for a lot of images and minimal text. If you are a photographer and want to showcase your work, a catalog of images in albums might work best as a layout. Play around with them before pushing your site live to see which works best for you!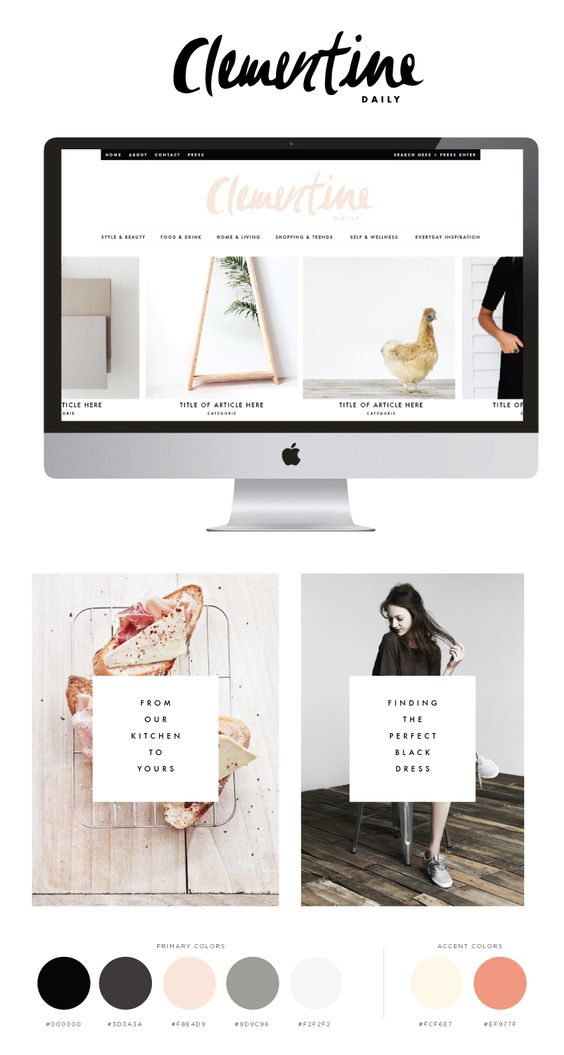 Less is more!
When choosing and taking photos, pick only a few objects to capture on a relatively solid or empty background. Whether this is for the header photo of your website or a image on Instagram, less is always more!
Color Scheme
Some sites and brands have a very prominent color scheme. This does not mean that all of your products need to be black white and red, but the buttons and graphics of you site may be because it is a reflection of you style and aesthetic. Developing a color scheme usually starts with always including black and white and then adding tints and shades of ROYGBIV! Below are some examples of color schemes and the emotions that are attached to them.
Lets talk about #filters
When posting on Instagram, Pinterest, your website and other social, you should keep the same type of color scheme and that means the same or similar filters. Similar filters could mean no filter at all but it could also be any Instagram Filter or even filters from Apps like Afterlight, Over, and VISCO Camera. Choosing these same type of filters will automatically help your colors look similar and give a interesting glow (or lack there of) on all of the photos!
Pick something you LOVE
Pick an aesthetic that you love and that will be easy-ish to maintain. If you vow only to take photos of cats on solid color backgrounds, that's not really going to work! Try taking photos of your everyday life but positioning the camera in an interesting way to capture your story creatively and cohesively.
Plan Plan Plan
Having a photo shoot or going somewhere with a ton of cool things to take photos of? When you get home edit all of the pictures in one shot and then save them to upload throughout the week or month. This way when you get really busy during the week, you will have an arsenal of photos to post!
Hold these photos in a Google Drive Folder or a Drop Box. That way you can access them from any device that has wifi capabilities and you will always be prepared to share your favorite photos!